I'm delighted to have a postcard poem in the new anthology I Sing the Salmon Home. It's a book of poems by Washington state poets, curated by the last state Poet Laureate (and Lummi Tribal member Rena Priest) and published by Empty Bowl. From the Humanities webpage:
The anthology honors the salmon's heroic journey, and its beauty, courage, and generosity. But it also bears witness to the threats salmon face from pollution, dams, and warming oceans. "It is my hope that the poems in this collection," says Rena in the preface, "will carry into the hearts of readers a wish to preserve and protect the gifts of salmon bestowed by a beautiful living earth . . . May their good work continue to sing the salmon home." 
Seattle Launch: I Sing the Salmon Home
When: Saturday, April 8, 2:00 p.m.
Where: The Seattle Public Library, 1000 4th Avenue, Seattle, WA

I will read the poem on Saturday at the magnificent downtown library. I am honored to have poems in both books curated by poets laureate. Getting into work in anthologies is complicated for me since I rarely write poems that neatly stick to one subject. I am attracted to poems that are "a use of speech at its least careless and least logical" as Charles Olson once put it in 1950, or as Adelia MacWilliam said in a more recent work, poems that employ: "The soul's clandestine syntax." I am also delighted the publishers saw fit to include the image from the postcard, which was original as well: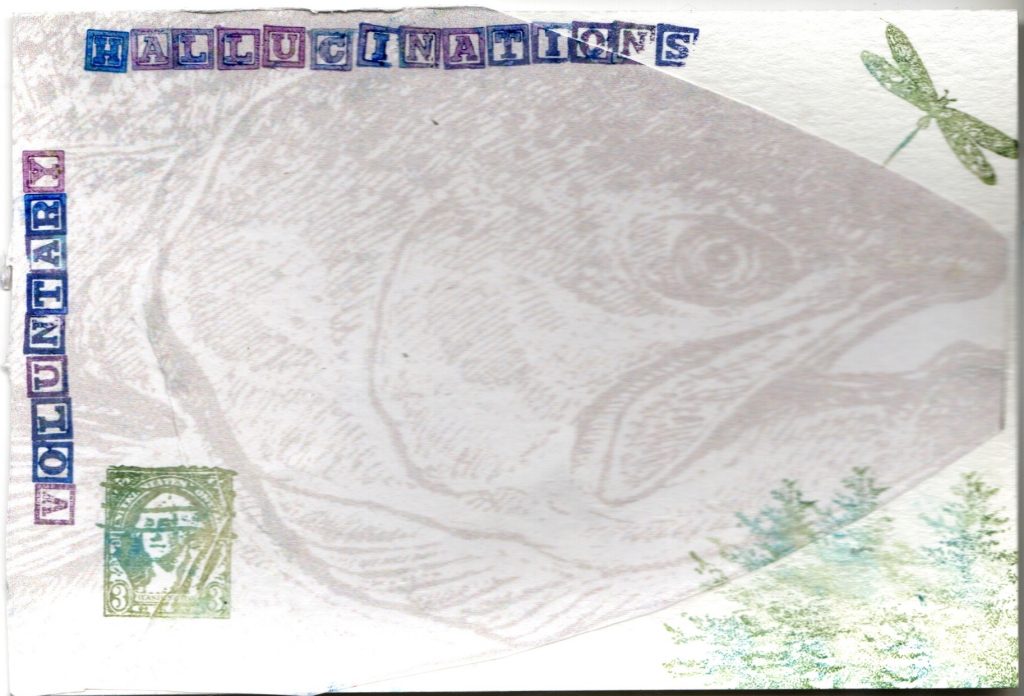 Brenda Hillman Five Week Workshop
If you are considering participating in the annual Poetry Postcard Fest, or have already registered as over 200 poets have, you might want to consider registering for a five week course examining Brenda Hillman's new book In a Few Minutes Before Later. There are slots available in the Thursday class which happens from 4-6pm and I have created at least two writing exercises that would be perfect for postcard poems. Info here:
There is also a discount for Brenda's book on that page. The course will also provide a workshop exercise for a poem that would be a mini-vision quest. Details soon for workshop participants. Testimonials for the workshop have been positive, such as:
What timely alchemy is this? Poetics as Cosmology with readings from Brenda Hillman's In a Few Minutes Before Later got me writing again. For five weeks, I've been breathing in from an open field and exhaling without the usual constrictions of thought and form. Paul Nelson throws the raw materials in a pot: a group of new and seasoned writers, all things organic and serial, and then stirs in various prompts and excitements. There's a whole lot of heart, mind, and soul scholarship on offer here. Paul is the real deal.
– Lorin Medley
Comox, BC
Feb, 2023
Poetics as Cosmology (Intro to Spontaneous Composition) I really appreciate how you encouraged us to experiment and incorporate more spontaneity into our writing  and made the class a safe place to share the results. I loved your urging us to be weird! And to make the deepest gesture possible.  If I had to choose one word to characterize the class's impact on me. I'd say liberating. (And that's a great thing to receive from a 5-week class.)
– Nancy Hausauer
Tacoma, WA
Nov 23, 2022