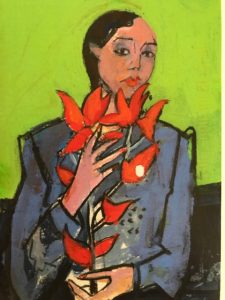 Hi Paul,

 As an afterword, here is a poem made up of the first lines of all the poems I received, and two images. Group 16, the stragglers! The woman holding a flower came from Greg Colburn of Hanover, PA (the painting is Wild Flowers by John Wragg.) The clothespins came from Karen Loeb in Eau Claire, WI.
Cheers, and thanks again.
Stacey Jones, Seattle, WA
Aloha Stacey—

I'm sending a
half turn,
crystalline snowflakes
(they drank their color),
the bag of wooden clothespins,
empty freighters.

Yesterday I re-did
Atlanta and aligned
a year of losses.


I will hold on to this plant.

"To fire, to fire," cried the silver man.
He leaves his work,
a structure of dreams.

Sit by the shore
waiting, without complaint,
this ladder has no end.