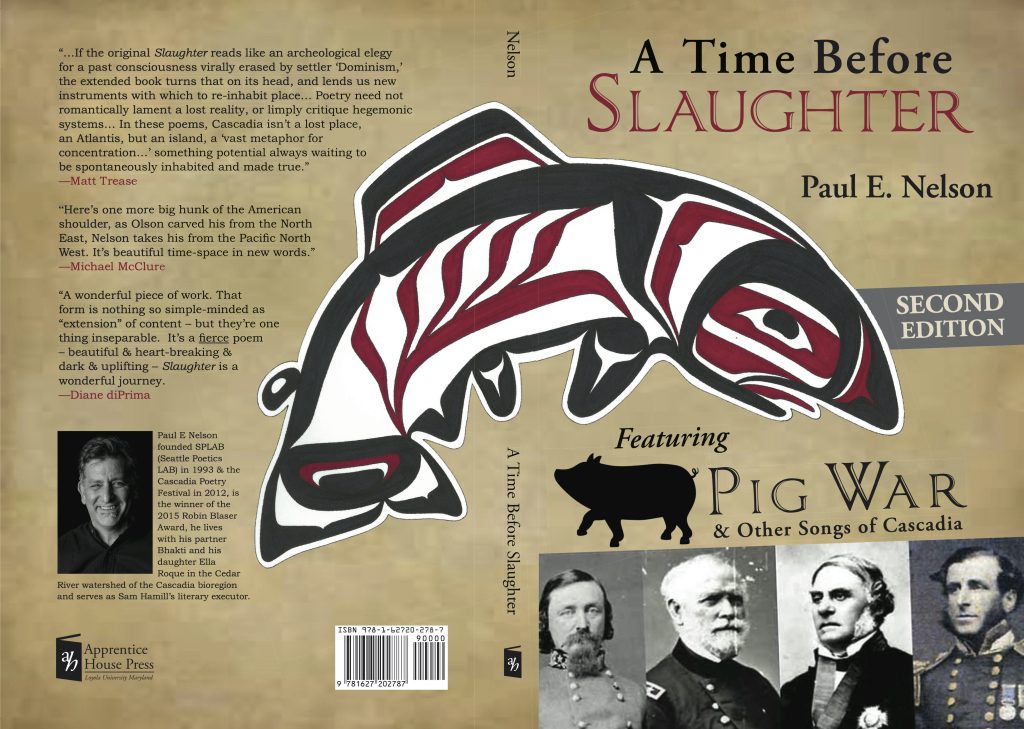 A quick note that registration for Poetry Postcard Fest 2020 ends July 18. (SIGN UP HERE!)
As your Poetry Postcard Fest team works to make the fest more diverse and more popular, we'd love to tap into the GLOBAL Poetry Postcard Fest BRAIN for a moment. The art of the blurb is underrated. The little testimonials we often find on the back of a book, hopefully from a famous writer we love and cherish, are quite an art form and not much over 100 years old, so a comparatively new work. Here are some blurbs for your Poetry Postcard Fest Co-Founder's book A Time Before Slaughter:
Paul Nelson's epic Slaughter explores the history, mythology and ecology of a place, a meeting-ground for various cultural interchanges, both good and bad, in the tradition of Charles Olson's Maximus Poems or W.C. Williams' Paterson, but uniquely his own. It is a pleasure to read—enlightening, serious, funny, and overflowing with life.

— Sam Hamill

A TIME BEFORE SLAUGHTER walks with great poetical ability the fine and difficult line between the political and the poetical: a fine line that in most poets leads to the political tract, which shortsells the poetical. Paul Nelson, on the contrary, manages to deal with today's world, and its terrible pitfalls, with an eye on creation and not on cheap lamentation: it results in a book where neither poetry nor nature, nor life or history, are tamed; they are exalted, in all its complex reality, through a sustained poetical state that turns A TIME BEFORE SLAUGHTER into an authentic work of art.

— José Kozer

Here's one more big hunk of the American shoulder, as Olson carved his from the North East, Nelson takes his from the Pacific North West. It's beautiful time-space in new words.

     

— Michael McClure

Here is the urban Northwest as it was and as it will be. Read it and weep. And cheer. The poem will take you where the I-5 can't go.

— 

George Bowering

(A Time Before Slaughter is) A wonderful piece of work. That form is nothing so simple-minded as "extension" of content – but they're one thing inseparable. The "form" dances and changes continuously (like the river). It's a fierce poem – beautiful & heart-breaking & dark & uplifting – "Slaughter" is a wonderful journey.

— Diane diPrima

Now we'd love to have YOUR Poetry Postcard Fest blurb in the comments. Adding one gives us the right to use it to promote the fest. We would love if you put the town in which you live after, along with how many years you have done the fest. (If you don't know definitively, your best guess will suffice.)
My crack at it:
Poetry Postcard Fest is a 56 day self-guided primer in spontaneous composition, multi-media and literary community. This has become an integral part of my summer and my own creative process. Poetry postcards are a vastly underrated art form.

— Paul E Nelson, Seattle, WA, 14 year participant
Use the comment section for your blurb. Thanks for taking a crack at this!